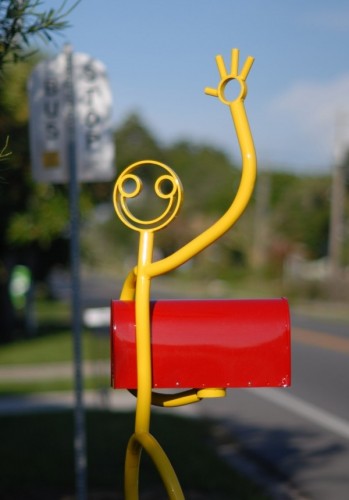 Welcome to

TUBE DUDE! 
"I want to do one thing, put a smile on your face."

– Tube Dude
Thanks for stopping by my website!
If you've spent any time in Sarasota, you've seen me around. I'm a metal stick man with a big smile on my face. Sometimes I'm relaxing, sometimes I'm working. I play the guitar, ride bicycles, cast a fishing line, hold signs and mailboxes…sometimes I just stand and wave!

We are here to put a smile on your face!

We are handmade and completely welded right here in America by highly skilled artisans. We are made of high quality aluminum so we do not rust. We are first covered with one of over a hundred and fifty different colors of powder coating and then coated again with a protective clear coat that keeps us shining for decades.

I can be shipped anywhere in the world in fact, at present I have over 4,000 brothers and sisters living in 38 different countries. Let us do our job and spread some smile where ever you live.

Thank you,
Tube Dude
How is a TUBE DUDE born?
Tube dudes are custom made one-of-a-kind sculptures that are guaranteed to make you smile. Made with aluminum tubing that is impossible to rust, your dude will give you years and years of enjoyment.

It all starts with an idea…you get to be the artist, you pick the pose, the size , the color, and even the personality (hopefully it's a reflection of your own). Whatever you can dream up we can create. After we have the design, we start bending pipe, mostly by hand , some times with a custom hydraulic bender. After we tack it , we weld everything together. All of the accessories that go on the Tube Dudes are truly incredible in their design and execution.

Then it's time for the color…we have hundreds to choose from. We use a process called powder coating, it is the strongest paint available.  The paint goes on magnetically and then is baked on in a large oven. After the color is cured, we repeat the process with a UV clear coat, this assures years of enjoyment.